String of Pearls
In 2007, the Olympic Property Group (OPG), proposed a trail system as one of several key elements in a plan for 8,000 acres in the Port Gamble area. A trail system was viewed as a viable and progressive way of adding value to OPG's existing real estate holdings in preparation for the land's future use. Over 500 residents turned out for the initial meeting concerning OPG's trail concept. These residents voiced strong support for both establishing a trail system and permanently retaining public access to OPG's Port Gamble woodlands.

The idea of a regional network of trails took fire, fueling the eventual creation of the North Kitsap Trail Association (NTKA), comprised of community volunteers, who could act in partnership with Kitsap County and OPG. NKTA then reached out to the wider North Kitsap community, and with the assistance of political leaders, local and tribal governments, and others, obtained a grant from the National Park Service to help craft a Master Trail Plan. NKTA has since expanded its Board of Directors and volunteers to try include representatives from all North Kitsap affected communities, trail user groups, and representatives from local governments.

The result is Kitsap County's "String of Pearls Trail Plan," connecting local communities, parks, and open space with recreational and non-motorized transportation options, including hiking, equestrian, and wheelchairs. The concept name was borrowed from the historic "Emerald Necklace Park", a trail system in Boston, MA, which connects local communities and serves as a recreational destination.

Stretching from the Back Bay to Dorchester, this inviting linear park greenway connects people and nature, just as landscape architect Frederick Law Olmsted intended when he designed it more than 150 years ago.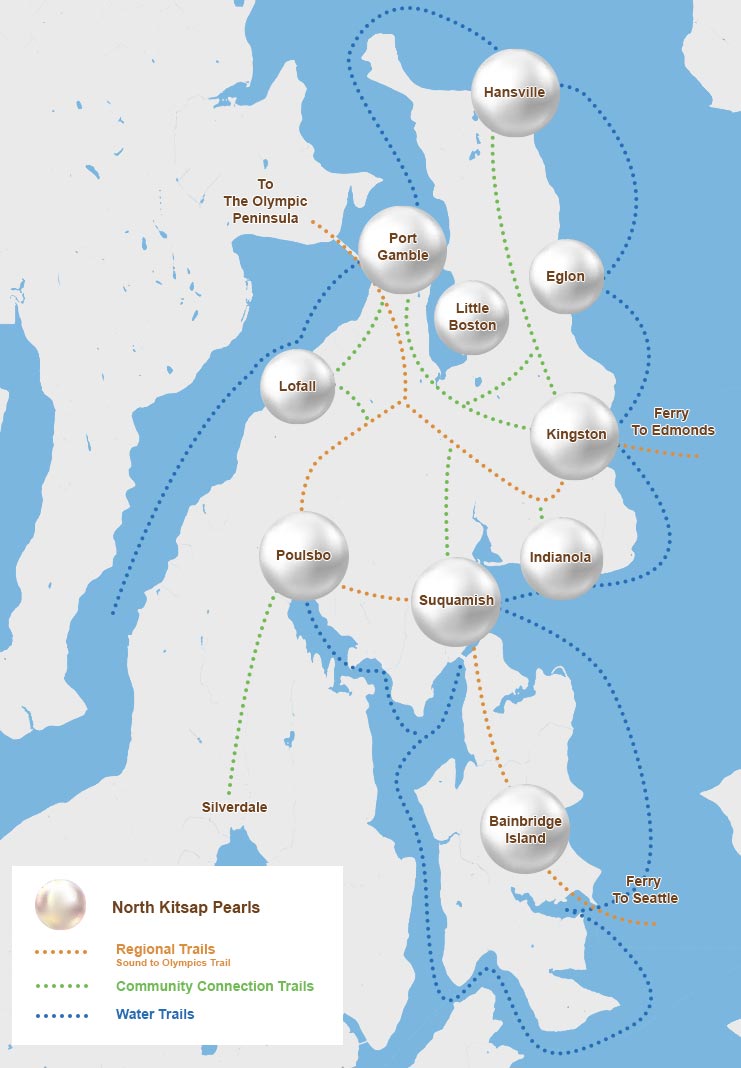 Port Gamble Heritage Park
Port Gamble Forest Heritage Park has been used by the public for decades with permission from the previous owner, Pope Resources, a timber company. Now owned and managed by Kitsap County, the 3,500-acre park in northern Kitsap County is one of the largest county parks in the Continental United States.

The park's forested uplands and saltwater shoreline support a variety of wildlife and other natural resources, as well as public access and recreation opportunities. The park's 65 miles of trails include existing logging roads and other trails and are maintained by volunteers with Kitsap County Parks Department's Port Gamble Stewardship Committee. The park will also soon be home to a 177-acre mountain bike ride park with features designed for all skill levels of mountain biking.

The potential east/west and north/south alignments of the STO trail are depicted on the map to the right.

Located between Seattle and the Olympic Peninsula, more than 6 miles of the Sound to Olympics (STO) Trail—a regional trail corridor—are in development through the park. In Kitsap County, the STO has two branches: one connecting with the Bainbridge Island/Seattle     Washington State Ferry, and the other connecting with the Kingston/Edmonds Ferry. The section of the STO from Bainbridge Island, crossing the Hood Canal Bridge into Jefferson County, is also the designated route of the Rails-to-Trails Conservancy's Great American Rail Trail (GART). The GART, now more than half completed, connects across the entire United States between Washington, DC, and the Pacific Ocean at LaPush.

Port Gamble Forest Heritage Park is a regional attraction.